How to apply leave in CSI Post Office?
28 Nov 2017
Leave is essential to all postal department employees in their career. The CCS conduct rule says "LEAVE IS NOT A RIGHT IT'S A PRIVILEGE". So our department employees take fewer leaves compared to other departments.
After introducing CSI, employees can apply any kind of leave through the system itself. This technology helps us save paper - "SAVE PAPER SAVE TREES".
Let's see how to apply for leave on a CSI system?
In SAP, go to DOP Main Screen or type the T-code zdop_main. The below window will be shown up.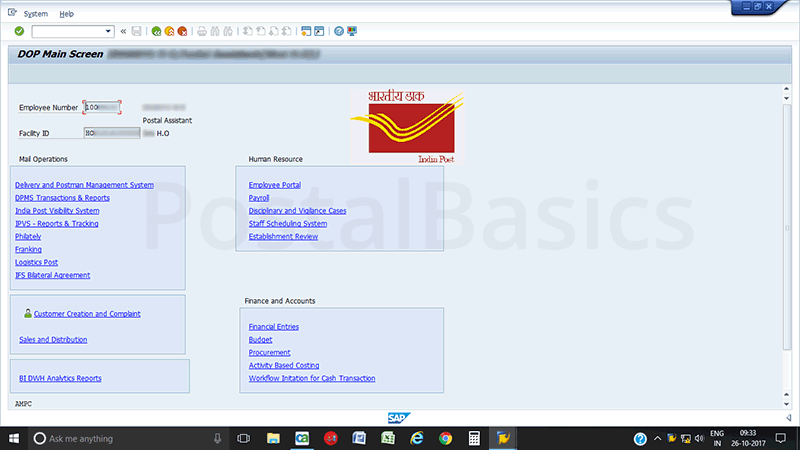 Click on Employee Portal. It will redirect to next page as shown below.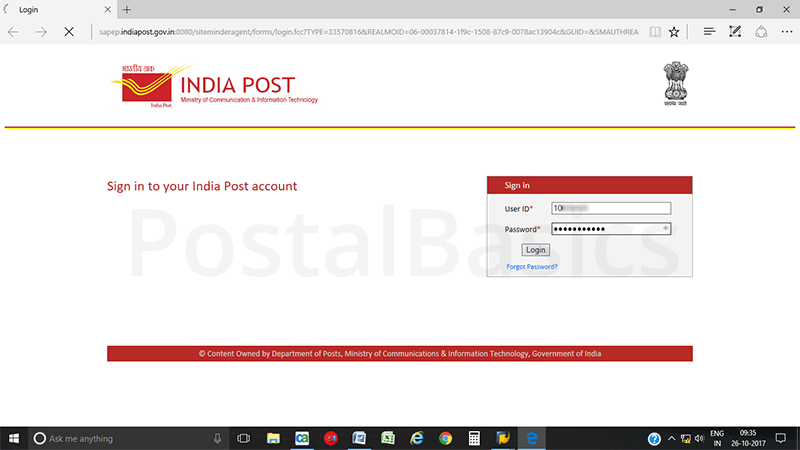 Enter the User ID and Password. Click on Log-on to enter into the page. It has some of the icons at the top of the window like Employee Self Service, Franking, LSS etc. Refer to the screenshot below.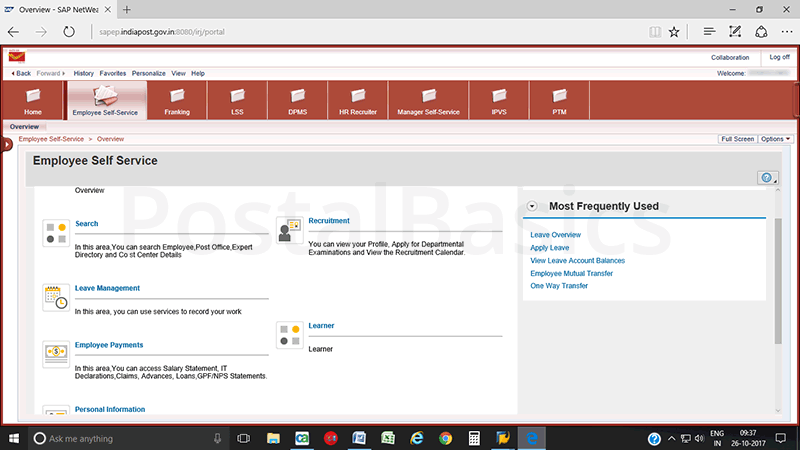 Click on the Employee Self Service icon. You will get some options like,
Search
Leave management – For Leaves.
Employee Payment – For loans, Salary Statements etc.
Recruitment – Departmental calendar, Vacancy etc
Personal information – Nominee details, Mutual Transfer, HR query, Asset declaration, My Service book etc.
Here click on Leave Management. You will see the below screen.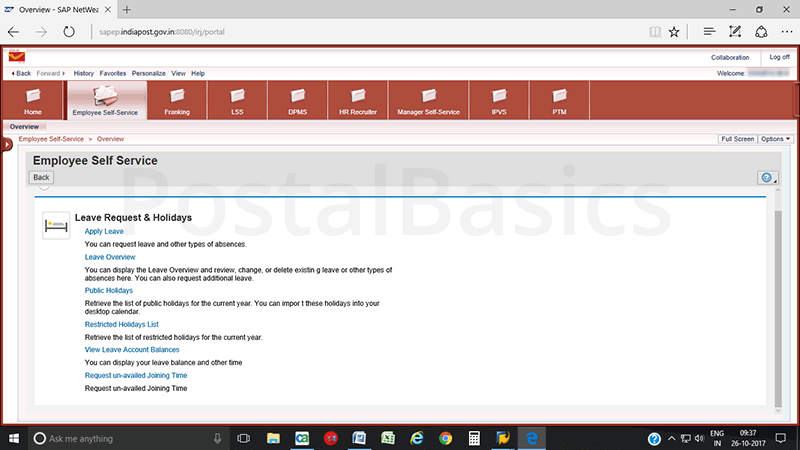 Here, you have the list like, Apply for leave, leave overview, Public Holidays and Restricted Holidays etc.
Go to Apply Leave. The below window will show up.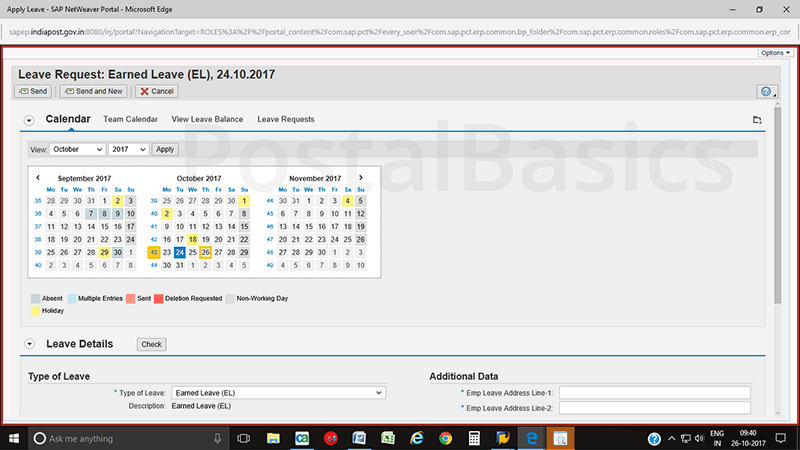 In this page, you have options like, Calendar, Team Calendar, View Leave, Leave Request.
In calendar - all holidays, non-working days, absent days can be identified in different colors.
In Team calendar - shows the same details but it includes all staffs details of an office.
In Leave balance - you can see the balance of all kind of leaves until today.
I'm going to take one example of Casual leave on 6.11.2017.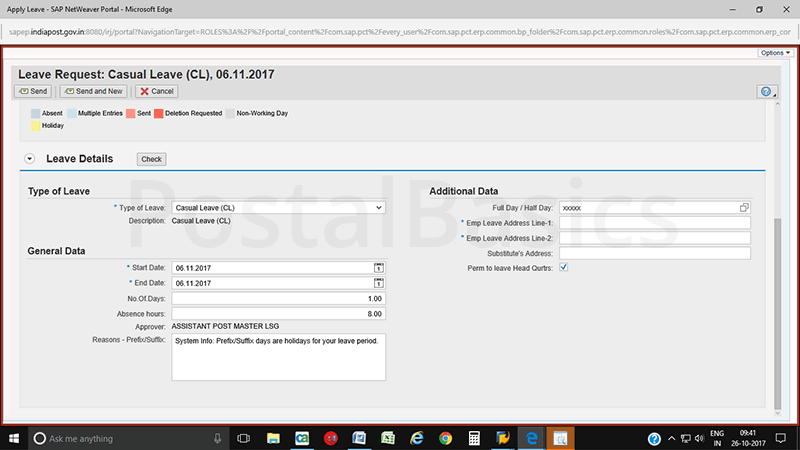 Type the following details.
| | |
| --- | --- |
| Type of leave | Casual |
| Start date | From date |
| End date | To date |
| No. of days | 1 or more |
| Reason | Enter the reason for leave. |
| Address | Personal address.(For Half pay leave you have the provision to attach medical certificate.) |
If you want to take the permission to leave the Head Quarters then click on the checkbox.
Once you enter all the details, click on Send button.
If it is CL/RH, a message will go to PM/SPM of the same office for approval or else it will go to Divisional Office for approval.
You can check whether the applied leave gets approved or rejected by clicking Leave Request as shown below.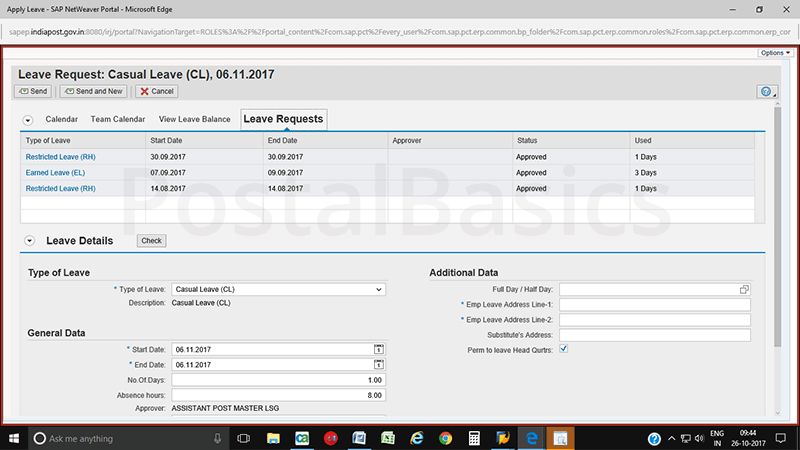 You can also check the balance by clicking View Leave Balance menu as shown below.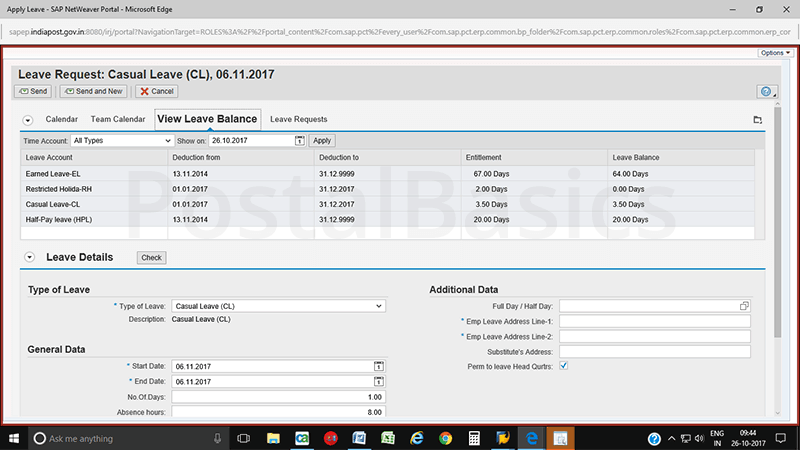 This is how you can apply leave in CSI.
Thanks for reading!