How to Send Cash to Branch Post Office in CSI Post Office?
12 Sep 2017
In this article, I will be explaining how to send cash to Branch Office from Sub Post office(C or B class post office). Enter the T-code ZFFV50 in SAP module. The below window will appear.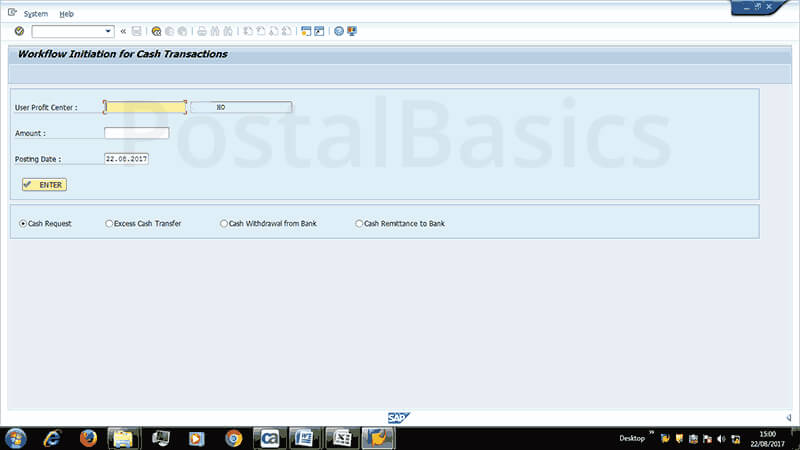 Enter the following details.
| | |
| --- | --- |
| USER PROFIT CENTER | 10 digit profit center of Branch office |
| Amount | Eg.20000/- |
Select Cash Request button. Now, click on Enter. Below screen will appear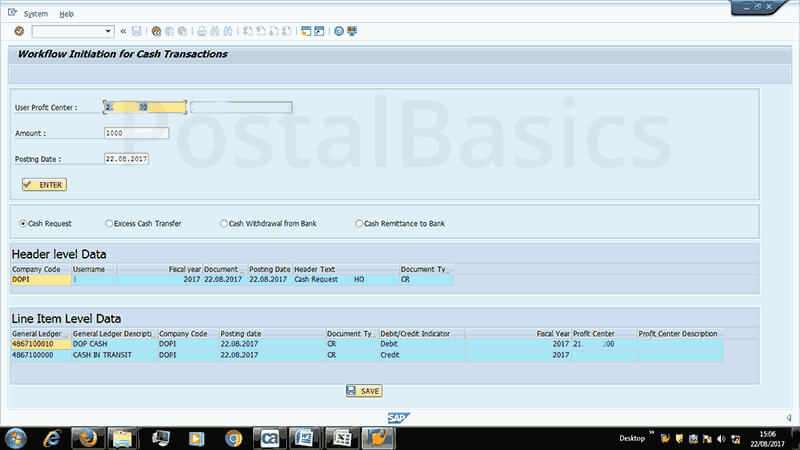 The system will take debit and credit GL codes automatically. Click on save button. Noe, the sub postmaster or treasurer has to perform cash request process instead of branch post master since BO is not migrated to RICT.
This cash request message will be going to supervisor inbox (in c class post office supervisor and treasurer are the same person)
Supervisor login
In SAP main screen, click on business work place (3rd icon in the top) » Inbox » Workflow. You will see the below image(just for reference),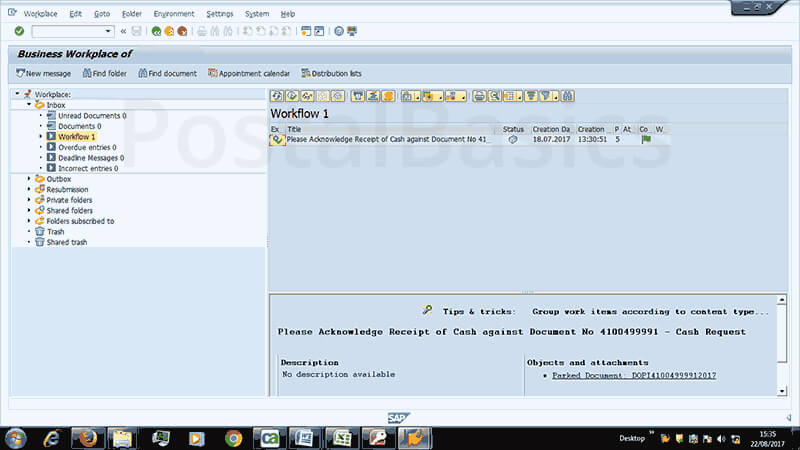 SPM Login
In work flow you will see a message as Release cash request from x BO, click on that message and click on Release button. Enter some text message. (In C-class post office, go back to SAP main page and click on Inbox and Workflow)

Again SPM has to go to Inbox » Workflow » click on Released cash request from x BO message » click on Document menu and then on complete.
Treasurer Login
Now, the Treasurer has to go to Inbox » Workflow » click on Change parked disbursement » click on save button.

Go to SAP main screen, go to Inbox » Workflow » click on Post Disbursement Cash from x office » click on Post Document.
Here is an image of the Post Document,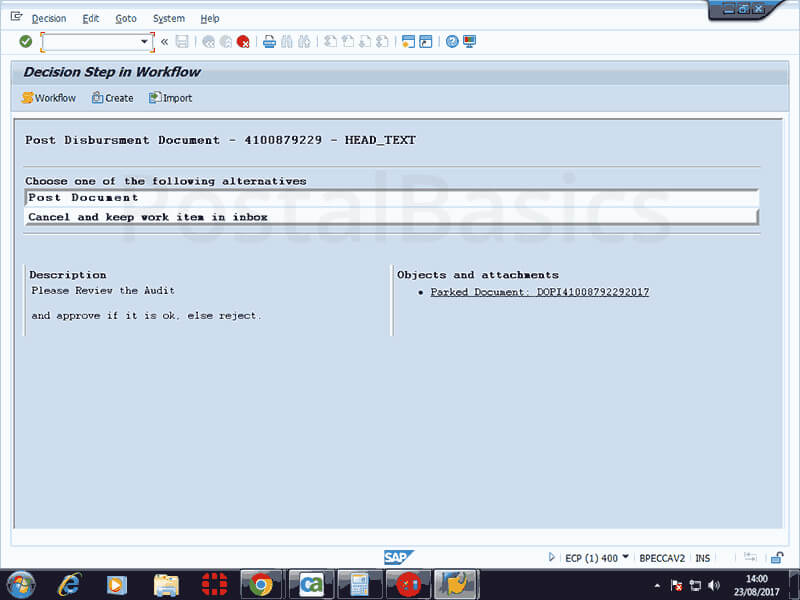 This is the last step in this procedure. Some offices may not have 2nd and 3rd steps but, it may merge and become a single step. Just keep in mind that once you come to post document window, that will be the final step. Thus the amount will be deducted from your Teller Cash Book(TCB).
Once you done the above step, a message Post Parked Disbursement will remain in your inbox till the acknowledge of BPM.
BPM may have recieved this cash to his account the next day(1 day transit) or the day after (2 day transit). Once the cash is received, BPM will acknowledge the same in Branch Office daily account. So the following step should be carried out on behalf of BPM(until migrated to RICT).
Go to Inbox (treasurer) » workflow » click on Post Parked Disbursement. You will see the following window,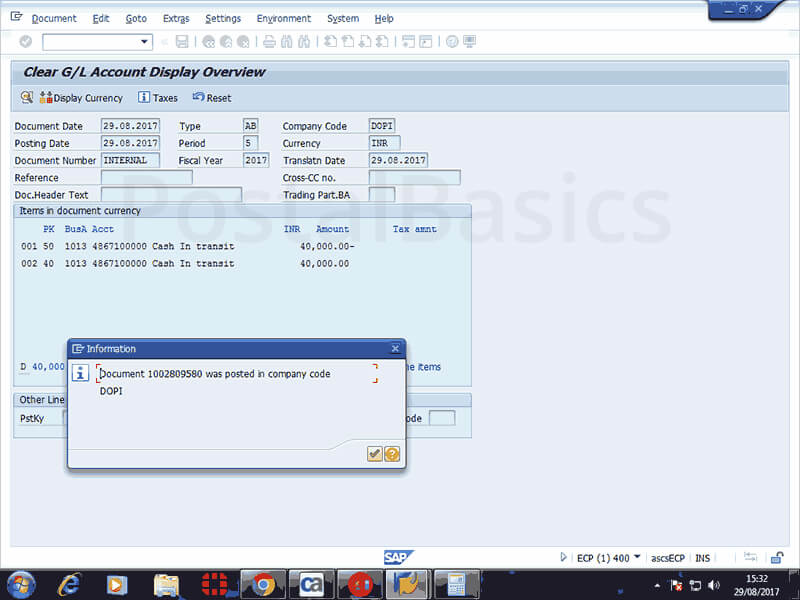 Click on save button. A document will be generated and click on ✓ mark. You should see the following window,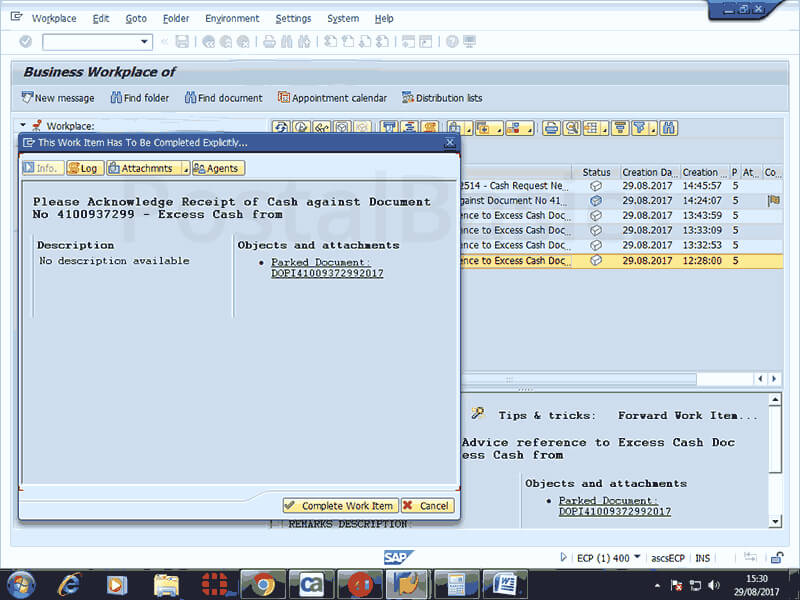 Now click on complete work item. Thus it will be effect to Branch office daily account. It will be at receipt side showing as cash taken by BPM.
Thanks for reading!