How to Remove Spoiled Cheque Leaf in CSI Post Office?
10 Dec 2017
The Post Master will issue a cheque for any vendor payment, customer payment or to withdraw money from a bank or maybe to other payments which are related to post office transactions.
The cheque leaf which was issued could be spoiled due to,
Any corrections on the cheque leaf.
Date Expired.
Printed incorrectly while manufacturing.
Stolen.
Or some other reason.
In such cases, the Post Master will issue a new cheque leaf to the particular transaction. So, we should delete the spoiled cheque number in the system also and issue a new cheque number.
How to remove the spoiled cheque leaf in CSI?
Go to SAP, type the T-code FCH8. The following screen will appear.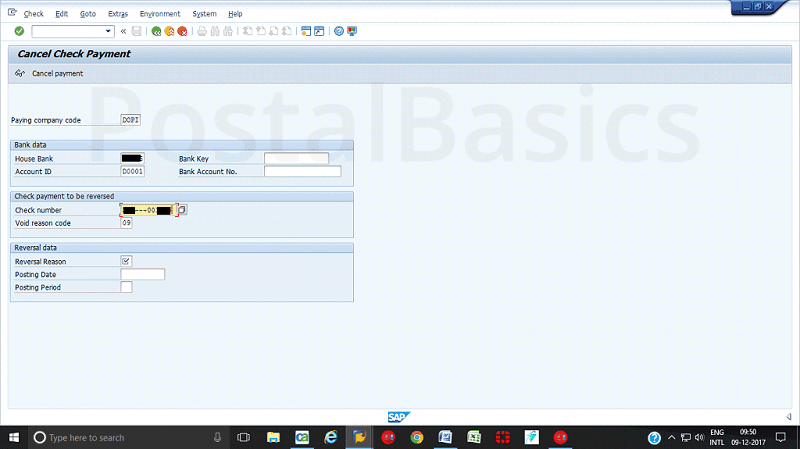 Enter the following details.
| | |
| --- | --- |
| Company Code | DOPI |
| House Bank | Bank code number |
| Account-ID | D0001 |
| Check number | Enter the spoiled check number |
| Void reason | Select proper reason. |
As shown in the below image you will see some reasons for spoiled cheques. Select the appropriate reason.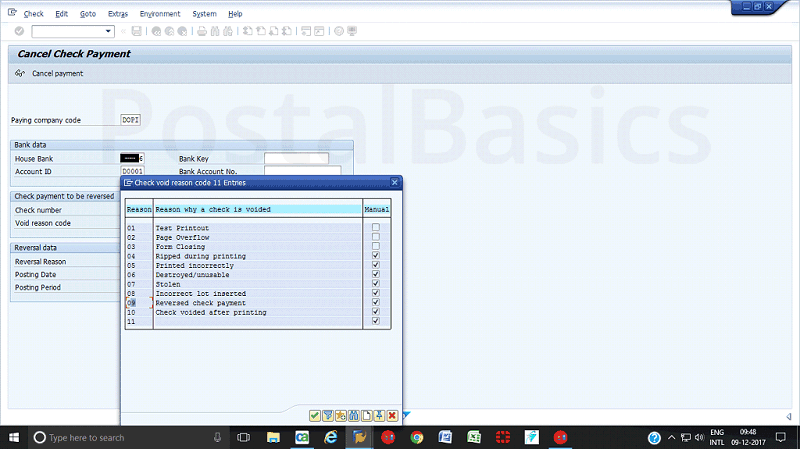 Once you select the reason, hit Enter button. The Save icon will highlight. Click on that icon. This is how you can mark a cheque leaf as spoiled. Now, you can issue a new cheque manually using FCH5
PostalBasics is not responsible if the method is used for any fraudulent transactions.
Thanks for reading.